Custom Silicone putty for impression material mold making,DIY Silicone Mold Making Kit, Super Easy 1:1 Mix Mold Putty, Makes Strong Reusable Silicone Molds, Food Grade, Non-Toxic
Brief Introduction :
Silicone PUTTY are new silicone compounds (platinum catalyst) that can be easily mixed and applied by hand to a variety of surfaces. Silicone Putty is mixed in equal amounts (1A:1B) by volume/weight.MC-P35 has a pot life of about 5-20minute with a cure time of about 30-60 min at room temperature (73°F/23°C). Shrinkage is low and cured rubber is exceptionally strong (very high tensile strength), durable and will resist high temperatures (for casting low-temperature melt metal alloys). They also resist cure inhibition.MC-P35 are also FOOD SAFE and can be used for culinary applications.
Features:
-Silicone Putty very easy to use, 3 Minute working time, 25 minute cure.
-Ideal for small molds, excellent detail from original.
-Strong, flexible, reuseable molds.
-High Heat range, up to 400o F.
-No Shrinkage.
-Self releasing, no mold release agent required for most applications.
-Odorless, Non Toxic. FDA Compliant, Food Grade.
Technical Data Sheet: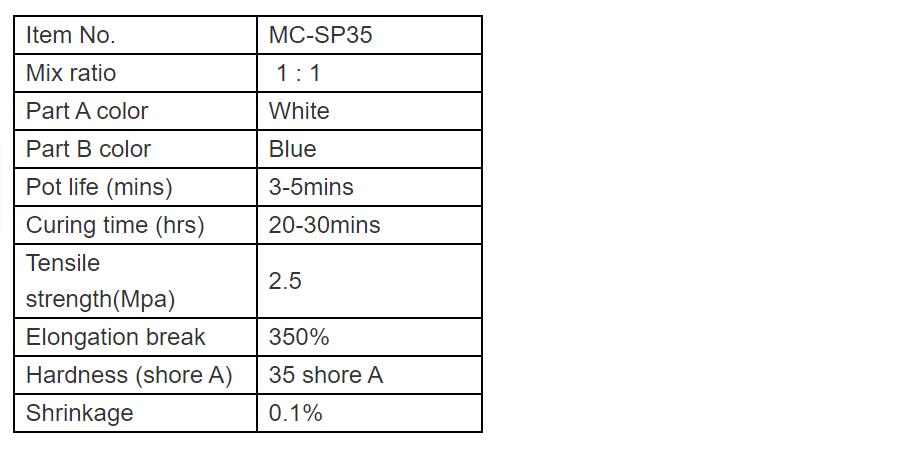 Applications:

Silicone putty is a fast curing silicone rubber, cured at room temperature with excellent dimensional stability and is used for the rapid reproduction of objects. Suitable for making fast mold impressions from almost any surface, orthotics/ orthopedic, equine hoof repair, jewellery making, sugarcraft and more.